Supergirl II's archenemy is the Black Rose.
Relatives
Superman/Clark Kent (father) Lois Lane Kent (mother) Jason Kent (brother) Cole Kent(brother) Bruce Wayne (godfather) Diana Prince (Godmother)
Base Of Operations
Fortess of Solitude
Characteristics
Status
Occupation
Heroine/reporter
Origin
Place of Birth
Metropolis
History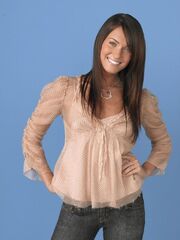 Lara Lane Kent is Clark Kent and Lois Lane's daughter. She somewhat decided to follow in her dad's footsteps and became a protector to Metropolis. She was born six years after her brother Jason and two years after Cole. she is the youngest of all three. She graduated Metropolis High School. She's currently working at the Metropolis Planet as a reporter. Her godparents are Bruce Wayne and Diana Prince.She wouldn't describe herself as the popular queen bee at high school, even if she was a cheerleader during her sophomore year. she sometimes feels like the "Odd Girl Out" because of her superpowers. she has a spunky, sassy attitude, many compare her to Lois. She has had a couple of relationships. Her most complicated relationship has been with Nathan Wayne. They have had an on and off relationship. They finally decided to go our own way after five years of a relationship.they decided to see other people. Nathan is now dating Dana and she's dating Charlie a photographer at the Metropolis Planet. It was hard for them to leave each other. he's still convinced that they belong together, since in the past they were lovers (Thomas Wayne and Lara Lor-Van) and the fact that when they went to the future they were married.
Powers and Abilities
Powers
Lara has the same powers as her father and brother. they are Superhuman strength, speed, agility, reflexes, invulnerability, super hearing, super breath, freeze breath, fire breath, sonic scream, telescopic vision, microscopic vision, heat vision, x-ray vision, flight.

Abilities
Master Hand-to-Hand Combatant

Strength level
She's stronger than any ordinary human, peak human and superhuman but not as stronger as Clark or Cole.

Weaknesses
green Kryptonite and Red Suns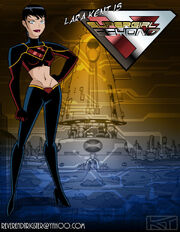 Paraphernalia
Equipment: None known.
Transportation: None known.
Weapons: None known.

Notes
Trivia
See Also
Recommended Reading
Links and References
---
Community content is available under
CC-BY-SA
unless otherwise noted.