Relatives
Batman/Bruce Wayne (father), Catwoman/Selina Kyle (mother), Donna Prince/
Donna Troy Beyond
(half-sister), Red Robin/Damian al Ghul (brother), Batman/Tim Drake (brother), Joker X/Jason Todd (brother), Shadow/Dick Grayson (brtoher)
Base Of Operations
JLH Tower, Batcave
Characteristics
Status
Occupation
Hero/Philanthropist,playboy,industrialist
Origin
Place of Birth
Gotham City
Portrayed by: James Laffery
History
He is the son of Bruce Wayne and Selina. He also has an on/off relationship with Lara lane Kent.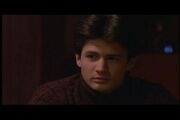 Origin
During his childhood Bruce would send all the time he could with Nathan. He would even tell him stories at night, including the Batman stories. One night Nathan woke up to get a drink of water, and saw his father near the fireplace. He held a picture of Batman and told himself, "Stop it Bruce. You have responiblities now. I'm going to spend every minute I can with my son. I don't want him growing up wishing that his father was their. I stopped being Batman ever since I had a child." Nathan moved by the speech he went back to bed. Years past until The day that his father and mother died. And when Martian Manhunter told them about the Justice League he gave him his father's and mother's will. Leading him to become Batman II.

Powers and Abilities
Powers
None known.

Abilities
Proficient in gymnastics and acrobatics.
His father was one of the best fighters in the DC Universe.
Strength level
Unknown.

Weaknesses
None known.

Paraphernalia
Equipment:
Batman II keeps most of his personal field equipment in a signature piece of apparel, a yellow utility belt.
Transportation:
The Batcycle is a street vehicle that is used by Batman II on numerous occasions.
Weapons:
(several different types), small explosives, smoke and tear gas pellets.

Notes
Trivia
See Also
Recommended Reading
Links and References
---
Community content is available under
CC-BY-SA
unless otherwise noted.