==
Relatives
none(all deceased)
Characteristics
Status
Occupation
Vigilante and detective
Education
College Graduate
Origin
I have to clean up this city.Cause if I don't no one will.
Nightwing to Red Robin
Origins
John Grayson was born to a loving family,but due to money problems they could not keep him and put him up for adoption.While at the adoption home John discovered that he had amzing acrobatic abilities.This caught the attention of Thomas Wayne who was the current batman.He then adopted him.Thus the Robin Was born.Although at first,wanyne thought that grayson
should go on small missions and do things such as bank robberies.But he proved to be able to hold his own against enimeis such as The Joker,or Two-Face.
Even though he thought that he and batman were a good team he and thomas did have some issues.Eventually John left formed his Own team,The teen titans.
The Titans
After leaving batman John formed his own team of other or former sidekicks.Also while on the team he formed a relationship with an alien named starfire.
Eventually he did leave the titans to go back with batman but sometimes would go on missions with them.
Tragedy
With being the sidekick of batman comes his allies,and his enemies.These two never had to deal with anything serious until Bane.Even though he was a human he had incredible strength.He almost killed batman.He snaped his spine.At first thomas thought of giving the mantle of batman to robin but did not because he was to young and instead gave it two an unknown man named prime.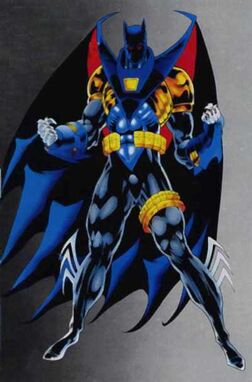 Prime and Robin
While prime was a good crime fighter,he was much more rough than the original batman.For instance,once he almost killed a bank robber and john had to stop him.He also failed to recognize robin as his partner.Eventually Thomas healed from his wounds and Fired prime.Making him the batman again.
Independence
When Robin was 17, he was shot in the shoulder by the Joker, and this scared Batman into ending his career for good. John realized at that point that he had grown up: he no longer relied on Batman and, in fact, he and the Dark Knight disagreed on crime-fighting methodology. His new-found independence and Titans' duties in New York left less time for his former commitments in Gotham City. He also dropped out of Hudson after only one semester.
Nightwing
John new that he would not be able to keep the mantle of robin so he used some of his old robin costume to create a new suit and a new name:Nightwing.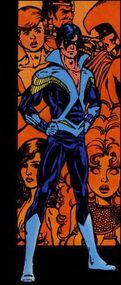 Powers and Abilities
Powers
None known.

Abilities
None known.

Strength level
Unknown.

Weaknesses
None known.

Paraphernalia
Equipment: None known.
Transportation: None known.
Weapons: None known.

Notes
Trivia
See Also
Recommended Reading
Links and References
---
==
Community content is available under
CC-BY-SA
unless otherwise noted.