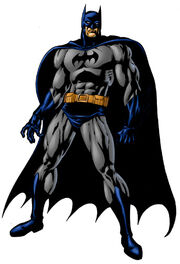 Batman is a superhero of DC Comics. He was created & published by Zachary Miller. He first appeared in "The Bat-Man #1". His alter ego is Bruce Wayne. Bruce Wayne is a multi billionaire industrialist, playboy, & philanthropist. His parents were murdered. He lives in Gotham City. He is assisted by various supporting characters including his sidekick Robin & his butler Alfred Pennyworth. Unlike most superheroes, he does not possess any powers. He uses his genius-level intelligence, detective skills, & Weapons. ==
Bruce Wayne
[[Image:{{{Image}}}|200px|center|Bruce Wayne]]
Characteristics
Status
Occupation
Playboy crimefighter
Origin
First appearance
Last appearance
Batman#1
Batman#1000
History
Bruce Wayne was just 8 when his parents were gunned down. Bruce then trained around the world. Bruce comes back to Gotham and becomes Batman. Bruce later takes in another young boy whos parents were killed. He trains the boy who becomes Robin. Baman later gets a new Robin who is his illiginimate son. The Joker and Clayface later frame Robin. Bruce later joins the Juctice League. Bruce eventually marries Selina Kyle AKA Catwoman and retires. Bruce later has a son named Nathan. Bruce and Selina later die. The circumstances are unknown.

Powers and Abilities
Powers
None known.

Abilities
Genius IQ, ewpert martial artist, olympic level athlete

Strength level
Unknown.

Weaknesses
None known.

Paraphernalia
Equipment: batarang,batgrapple
Transportation: Batmobile
Weapons: None known.

Notes
Trivia
See Also
Recommended Reading
Links and References
---
==